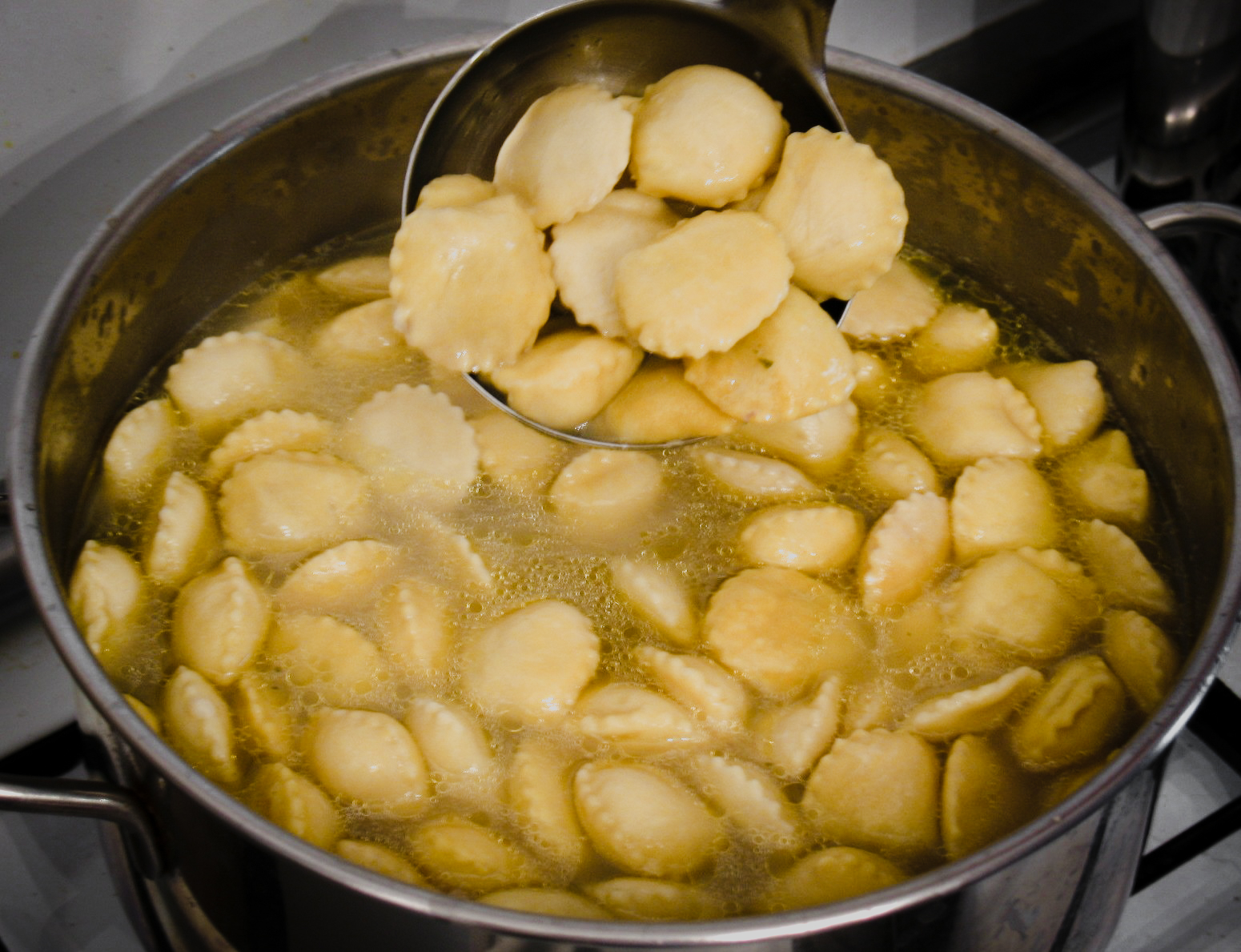 How to Make a Traditional Christmas Pasta: Anolini in brodo
Cucina con Luca!
One of my very favorite Italian Christmas memories is coming inside from the cold, taking off winter coats, gloves, and scarves, and kissing whichever beautiful host had anolini in brodo waiting to kick off the culinary festivities.
This dish is a classic Christmas starter, and it does a great job at warming up the stomach (both figuratively and literally) for the rest of a holiday meal. Another reason I love this primo is that it's an easily filled pasta to make–no fancy folding or crimping, though you could use a round pasta stamp if you would like a certain amount of flair.
I hope it can bring you some cheer this holiday season.
Anolini in brodo
You will need:
Butter
1/2 onion
1 carrot
1 celery stalk
14 ounces (400 grams) of flour
10 ounces (300 grams) ground beef
1 glass of white wine
5 1/2 ounces (150 grams) breadcrumbs
Grana padana
6 eggs
2.5 quarts (2.5 liters) of chicken broth
Salt
Pepper
The pasta filling:
Dice the onion and start cooking it over medium heat with a healthy scoop of butter.
Dice the carrot and celery. Add to the onion once the onions have turned somewhat translucent. Add salt and pepper.
Add the ground beef to the pan. Add salt and pepper. Mix it all together with a wooden spoon.
Add a cup of white wine to the pan, cover the whole thing loosely, and let it cook on a low flame for about 2 hours, stirring occasionally.
After 2 hours, transfer the meat and vegetables to a mixer. Combine it with the breadcrumbs, eggs, and a healthy dose of Grana Padana.
When it's mixed together well, leave the mix in the fridge for 12 hours.
The Pasta
Combine the eggs, flour, and a pinch of salt to make the pasta dough. If it's your first time, it helps to make a well in the flour, add the eggs to the well, then incorporate the flour a little bit at a time. Then get to kneading until you have a nice smooth dough. Let it rest a half hour.
Work the pasta through a pasta roller to get nice thin sheets.
Bringing it together
Scoop little hazelnut-sized portions on half the pasta sheet every inch and a half or so. Fold the pasta sheet over itself to cover the scoops of filling. Press down between each one and cut out little circles around them to make the anolini.
Let them sit for about an hour. Then, cook the anolini in boiling chicken broth for a couple of minutes. Once they puff up, float, and look tender, they are ready to serve in a big scoop of their cooking broth.


Enjoy! Si mangia!
Luca
P.S. If you liked this recipe, be sure to check out my cookbooks!