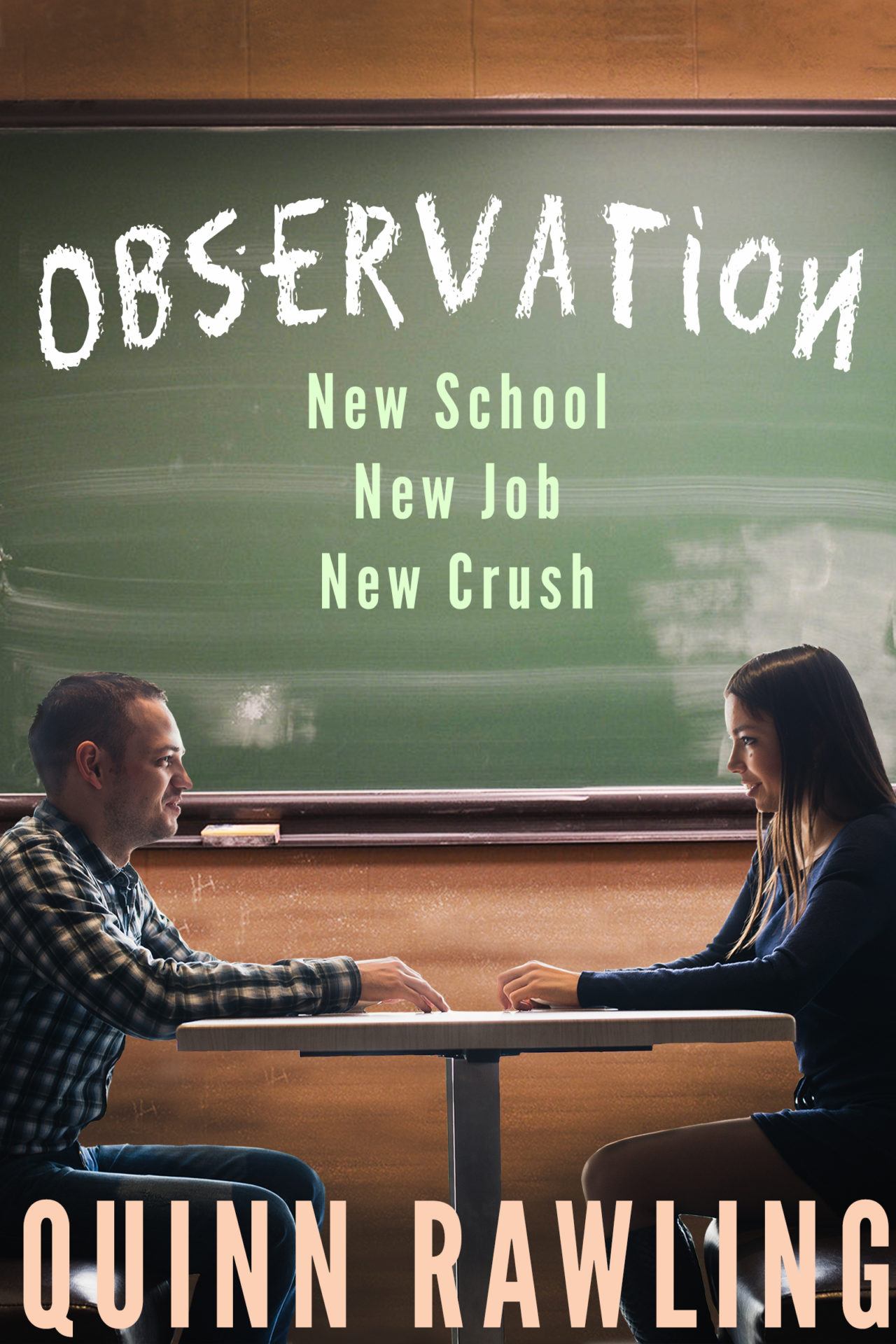 Author Interview: Quinn Rawling on Writing Observation
Quinn Rawling is fabulous at writing romantic comedies that are totally binge-worthy. Those feel-good, will-they, won't-they tales are enough to make you believe in love again.
We sat down with Quinn and asked her to dish on her first title with us. She's just as nerdy and delightful a human as her stories are.
EB: This a clean romantic comedy. Definitely PG-rated. Why do you like writing in that genre?
QR: I like writing this genre because I love reading it! I love reading books that are romantic, but it's so hard to find books that have romance without graphic scenes, especially for adults. I wanted to write the kind of story that I would want to read.
EB: What inspired you to write Observation? It seems at least somewhat niche.
QR: One of the biggest sayings around writing is "write what you know." I taught English for two years and had amazing experiences with my coworkers and my students. I knew that I would be able to set a story within a school without a lot of research, which was a huge sell for me. The plotline with the assistant principal actually came from an inside joke between my husband and I. The assistant principal at my last school was kind of cute, so whenever I had to stay late, I would tell my husband that I had a secret meeting with him!
EB: Nice. Marital Discord. Hilarious. Is there a specific character you gravitate toward from Observation? Someone you think you'd be friends with most easily?
QR: I loved writing Grant. I love his dry humor and passion he has for teaching. He reminds me of a lot of the guys I was friends with in high school.
EB: How accurate is the teachers' lounge drama? Does this interpersonal fireworks stuff really happen often between teachers?
QR: The amount of gossip and silliness is accurate. The romances and angst are not. Honestly, most of the drama centers around students. We would compare notes and strategies for dealing with different kids or honestly vent a little bit about a particular student sometimes. I'm sure inter-teacher romances happen, but I never saw one and I'm sure it would be much more mature and mundane than what I came up with for Erin.
EB: How did you come up with Mia's character. She had it rough.
QR: I actually had a student that was a lot like Mia. She was very bright and gifted in things like poetry and literary analysis. She was one of my favorite students. And then I found a suicide note in her notebook. I reported it and she got help, but it was a really eye-opening experience for me. I learned to watch my students a little closer and pay more attention to the things they were writing.
EB: Wow. That's sobering. Did you base any other characters on people you know?
QR: I don't think any complete characters are based on anyone I know, but I do take snippets here and there. Certain things my husband or friends have said to me have ended up as lines out of my character's mouths. (I can't remember any of them now, of course.) Grant has the same humor and interests as a few of my friends from high school. So, there are definitely tidbits here and there, but not a whole character based on one person.
EB: When you were writing Observation, did the story ever take you somewhere you didn't want to go? Were there sections that just felt like you sloughing through the mud?
QR: I really struggled to write scenes that involved Caleb Chambers. I just had a hard time hearing his voice. Conversations between Grant and Erin seemed to flow very naturally as I wrote, but I struggled to get much from Caleb. On the other hand, the secondary plot line with Cassy and the librarian came out of nowhere! He just kept coming up as I was writing, like the story was fighting to have me include him. I decided to just go with it!
EB: I know we asked you who you think you'd be friends with, but who is your favorite character from the story?
QR: I just love Grant. I modeled him somewhat after Ben Wyatt, Adam Scott's character on Parks and Recreation, which might be why I love him so much. If you ask any of my friends what my type is, they'll say, "nerd," and it's true. I've always loved superheroes and science fiction and will always have a soft spot for people who share those interests.
EB: Awesome. Thanks for taking time to share these answers with us.
QR: Of course! Thank you!
You can grab a copy of Observation on Amazon.