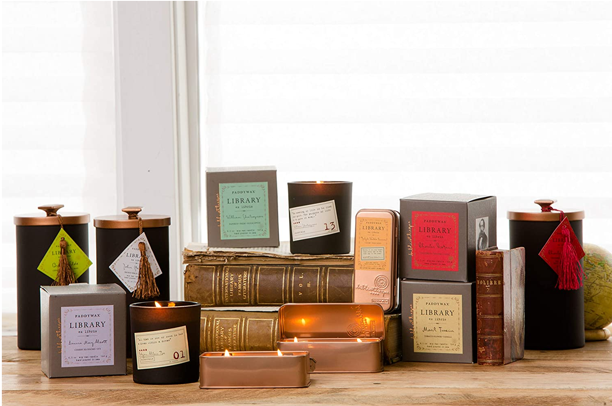 5 Quirky Gift Ideas Book Lovers Will Love
If you've run out of ideas for what to get the book lover in your life, don't worry, we've got you covered. Whether you're looking for birthday presents, holiday gifts, or just something nice for that special someone who loves to read, the list below has some wonderful gift ideas that aren't just books! Because let's face it… getting someone a book is a very scary thing to do.
1.Fred FingerPrint — A handy bookmark
If you're looking for a creative bookmark that actually serves its purpose in keeping track of where you've left off, then look no further! This bookmark is the perfect gift for book lovers who have to occasionally put their books down and hate having to skim the page to see where they've left off. With just a snap, the FingerPrint will point lovers of literature to where they've stopped reading, saving them the hassle. This cheeky little index finger will become your new best friend. What's more, is that the handy bookmark conveniently stretches to fit books of any size. Pick between green, blue-gray, and orange.

2. "Just One More Chapter" Mug
Whether they always have a book in hand or a mug in hand (or even both), this item makes the perfect gift for book lovers as well as coffee/tea connoisseurs. Simple and straightforward, this mug speaks for itself, so your lover of reading doesn't have to! Who wants to talk with a mouthful of beverage a head full of literature? A good book and a great cup of coffee make an ideal pair as both tend to be really hard to put down, so head on over to Amazon and pick up one of these for the lover of literature in your life!
3. Paddywax Library Collection Scented Soy Wax Candle
Already gifted plenty of bookmarks and mugs? It's time to get next-level. Check out these scented soy wax candles which make the best presents for literary lovers. These aren't just any ordinary candles, Paddywax Library features special scented collections of some of the most well-known authors in the world such as William Shakespeare, Ralph Waldo Emerson, Leo Tolstoy, Oscar Wilde, and many more. From cedar to thyme, to absinthe, to palm scents, each collection is uniquely crafted in admiration of the author's life and includes quotes from their greatest novels. Your library junkie will light one of these at their next book club meeting and bask in the envy of all others. Feel free to browse the various candle collections to get the perfect set for your book lover.

4. Enamel Lapel Pins Sets – Cat Books Brooch 6pcs
Pins make for some of the most expressive accessories, and there actually can't be anything better than pins with cats on them. An ideal present for lovers of books and animals, this enamel lapel 6-piece pin set of cats reading books can be used to decorate a variety of items, from book bags to that bargain hunter jacket perfect for used book sales. Nothing says back off that copy of the Martian Chronicles like a cat staring down the competition from the comfort of your lapel. Easy to pin on and easy to take off, these pins are the best gifts for book lovers of all ages.

5. Literary Coasters for Drinks
This literary coaster set makes for a unique gift to any lover of literature that enjoys a great book paired with an even greater drink. This set includes a variety of coasters that reference classic novels such as The Odyssey and Moby Dick. Great for coffee, tea, soda, and other beverages, these literary coasters can be used for any book lover's favorite drink. They could put down that mug you got them without fear. Maybe grab one for your friend and one for yourself. Geek out without the cup rings on your furniture.
Happy gift giving!